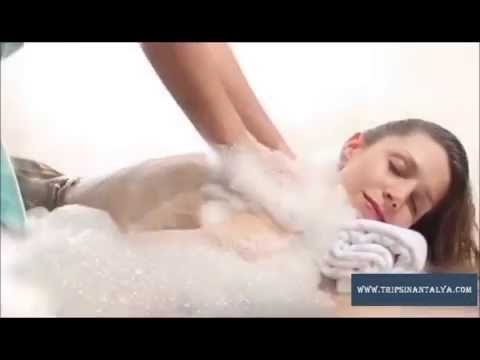 Alanya Hamam Turkish bath
Alanya hamam takes place in an authentic atmosphare. Whole Body peeling, foam masage and whole body oil masage treatment are involved in the alanya wellness program. Relaxing and feeling like new born after the hamam. Enjoy your holiday in Alanya and get first a whole body peeling. This peeling is good for your skin because all the old skin will be removed. Your skin can breath better again. To get all aff the skin particles out of your pours, you geta whole body foam massage. You will be wahshed like a child. Now ist time to get a whole body oil massage. The relaxing massage in the turkish bath is good for your health. İf you have tried it once, you will do it in the future again. Have a look at the video to get more impressions about the hamam.
Alanya Hammam Tour
Alanya is one of the most popular resorts in the world with its beauty, beaches, clean Mediterranean Sea and blue sky. Every year thousands of tourists from all over the world have the opportunity to spend a unique vacation, participating in various events and activities that we organize. Among the various events in Alanya, the Turkish bath contains those national peculiarities that everyone who comes to Turkey just needs to get to know. From this point of view, the Alanya hammam tour provides a unique opportunity not only to relax and unwind, but also to get acquainted with the Turkish culture. In addition, the Alanya hammam tour fits into the framework of health tourism, and the reputation of the Alanya baths are growing every day.
All who go on vacation, ultimately want only one thing – it is to rest and relax. Hammam tour creates the ideal conditions to achieve this goal. Hammam relieves fatigue after a full day of events and relaxes the body, giving energy for new discoveries. Turkish baths are different. The heat is calm, but uniform. The Turkish bath is not only a place for cleansing the body, but also a place where you can have a great time with friends over a cup of Turkish tea.
Entering the main hall of the hammam, occupy the central area. Make yourself comfortable and enjoy the heat. After 15-20 minutes, when your body has steamed out, basic procedures begin. The bathhouse with a big bag creates a rich foam that covers your entire body. In addition to bathing, the bathhouse attendant does foam massage. About half an hour later, a massage is performed on a clean body using a mixture of aromatic oils. This allows the body to completely relax.
In addition to the basic procedures, any visitor can request additional services, such as mud baths, relaxation in the salt and steam room, as well as pedicure and manicure. These and other services are available at an additional cost.
Meaning of hamam
The meaning of the word hamam; Bathing in a hot and warm area. The meaning is similar in Turkish, Arabic and Hebrew languages. However, the bath is not limited to the meaning derived from these words alone. Thanks to the Turks, that is to say, the Turkish Bath has gained a cultural meaning as well. If we need to define it based on cultural and traditional facts; We can say that it is not only a place of washing, but also the center where health, social and cultural activities take place. If we define it with a health-oriented approach; Then it Can be defined as the place for bathing, purification and healing.
Alanya Hamam Tour
The baths, which are based on ancient histories and which are among the sine qua non of Turkish culture, attract attention of foreigners especially from touristic regions. Among the baths that have a relaxing effect, the Alanya baths continue to give the best services to local and foreign tourists who come to the region. You can enjoy a peaceful holiday with the Alanya baths that provide the stresten treatment. When we look at the history of the bath, we see that it extends back to ancient Roman times. The baths, which were built with the aim of bathing as a basic aim, have been used in entertainment in Turkish culture.
Pamper your soul with hamam
After a tiring holiday trip your body will want to relax and relax. The time you will spend in the Alanya baths, where you will end your tiredness, will provide you with both old and new health and energy. You will experience Alanya bathing tours and you will firstly say hello to the sauna area. By sweating in the hot dry sauce, then clearing away the toxins and dead skin in your skin with the droppings, you also feel relaxed at the same time.
After the serenity that will relieve you up to your stitches and open your pores, you go to the belly button and at this moment the experts in the field throw the sac. After purging, you can expect foam massage, which is very effective for your body to get calm. With this wonderful massage you will have the opportunity to get rid of material spiritual dirt in your body. You will enjoy relaxing with these baths that offer solutions for different demands on body care. After the foam massage applied after the cut, a wonderful twenty minute massage accompanied by aromatic oils will be waiting for you.
Hamam is more then a bath
Get rid of the dead skin from your body so your skin can breath better. Stimulation of the heart and cardiovascular system, strangthens your immune system, can heal or linder your rheumatism and Cellulite.
During your holiday you can use the Alanya baths at any time. You can also benefit from the mud baths, salt and steam rooms free of charge at the same time in the Alanya bath tour prepared for you. You will have the opportunity to benefit from pouches, foams and oil packs applied by masters who are made up of specialist teams in the field. The services included in the prices of the Alanya hamam company include Guidance- Peeling-Foam and oil massages. Besides, there are manicures, masks and pedicures (extra). You can also get free sauna, jacuzzi and steam room in our raw in Alanya.
You will have the opportunity of relaxation by relaxing from stress and tiredness during your holiday with Alanya bath tour. If you want to make a difference during your holiday and bring your body to a relaxed state with the hot water of the baths, you can make a reservation without any further waiting. There is no fee for children up to a certain age. How many hours and the day you want the prices of the hamam bath is important in the angle of reflection. Our package prices on the hammam tour are in surprise extra services. You can choose female masseur for ladies and male masseur for men.
Alanya Hammam Tour Program
Alanya Hammam tour program is held from 9 am to 8 pm. All guests can book a tour at any time during these hours. Here are some guidelines for visiting Turkish baths:
Bring swimsuits or swimming shorts with you. Towels are provided on site free of charge.
Leave valuables, decorations and money in the hotel where you stay. Bring only a small amount for additional expenses.
It is not recommended to visit Turkish baths for women who have health problems or who are pregnant.
In the hammam there are separate rooms for men and women. For married couples, there is a separate hammam section and a massage room.
Bathhouse attendant services, drinks, foam and oil massage, as well as guide services are included in the tour price.
After visiting Alanya Hammam tour you will get rid of stress and fatigue. You will feel that not only your body is clean, but also your mind. Your skin will change, soften and shine health. If you book our Hammam tour, you will be picked up from the hotel where you stayed and taken to your hotel after bath procedures.
Information message:
For hammams, you can book at any time from 09:00 am to 19:00 pm.
If you are new to tatra, we advise you to come to the baths first for change and innovation in your skin.
When you come to the bath you can swim with your swimming peg or your shorts and take advantage of the pool. We will welcome your different requests, such as towels, etc.
Especially when you come to the bath, do not bring your precious items. This is important in terms of your safety.
We do not recommend hamam to ladies who have health problems (especially blood pressure – heart) or when they pregnant.
There are different types of baths serving both men and women.
You can pay the price of the hamam to your guide friends when you are picked up at your hotel.
Please contact us for special treatment or massage packeges.
Included
Transfer to and from the Transfer Hotel
Peeling and Foam Massage
Oil Massage
Guidance Service
Insurance
Not included
Drinks
Personal Expenditures and Tips
Photo
Mask and Other Massages
WhatsApp reservation: 00905444101017 Rafet Kavak