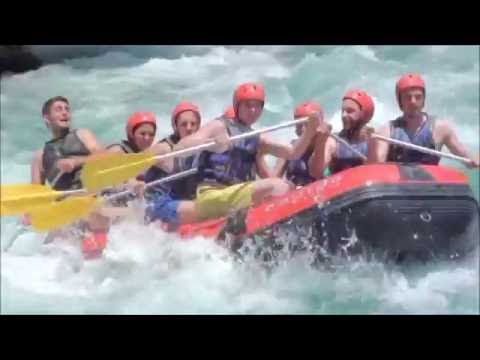 Alanya Rafting Tour
Standard vacation on the beach or by the pool at the hotel has long been no surprise. The main thing that makes a vacation memorable is a vivid impression of entertainment and activities. To help you make your vacation even better, we organized rafting throughout the summer season at the world famous Koprulu Canyon on the Koprulucay River. This area is known for its picturesque landscapes and excellent conditions for rafting in Turkey. Rafting itself is one of the extreme sports that has many fans all over the world. Alanya rafting tours take place on a 14 km track. The boats are for 2-6-8-10 people and our experienced guides accompany the group at each moment of the tour.
Each Alanya rafting tour is divided into 3 stages according to the level of difficulty in accordance with international standards. Therefore, regardless of your level of training and skill, you can find a suitable level for yourself. Beginners will not be allowed to the tracks with a high level of difficulty. But everyone can get a charge of good mood, teamwork experience and just cool down in the cool waters of the river.
All participants of the rafting tour, will have free transfer, insurance, lunch, guide services and equipment for rafting. Videos and photos taken during rafting will be offered to participants for an additional fee. Remember that rafting is a sport full of energy and adrenaline, so it has a number of restrictions to the admission of participants. İn particular, pregnant women as well as persons with various diseases are not allowed to rafting.
All participants in the tour are advised to take the necessary things for swimming, sightseeing, sunbathing during breaks. It is recommended to bring with you towels, shorts, comfortable shoes and sunscreen, and leave valuables, documents and money in the hotel. Take with you only a small amount for additional expenses (drinks, photos, etc.).
On the way to the canyon, the tour participants are provided with comfortable air-conditioned minibuses. The water temperature in the rafting area is about 15 degrees Celsius, the depth of the river varies from 1-3 meters, and the width of the river is about 12 meters.
We organize rafting tours on equipment that complies with world standards of quality and safety. Throughout the rafting, the group is accompanied by experienced tour guides. Tour participants are insured from the beginning to the end of the rafting stage.
Equipment for Alanya Rafting Adventure Tour
The Rafting company will provide eqipment like : Neoprene, wet jacket, helmet, life jacket. The participants always will need to bring: swimming suit and towel. For sure the best season to do Alanya rafting is in Spring time, it means April, May, June, where you can find more action. You can make your holiday unforgetable with the Alanya rafting tour. Alanya is one of the best region to do Rafting. Alanya Beşkonak is the location for rafting, with a better volume of water and a great variety of canyons. The rivers are qualified for everyone. The degree of dificulty for Alanya Rafting Adventure Tour is most of all easy.
Raft Adventure for adrenaline seekers
Fort the Alanya Rafting Tour
we will take you from your adress or from your  desired place in and around of Alanya. After the Alanya raft adventure tour you will be driven back to your destination. Tour starting time is between 08:00 – 09:00 am. Pickup time
varies from your adres where you have your accomadation. At the base station in Raft Adventure Tour you will get  instructions from the Professional guides in your own language. After the rafting instructions are finish, your equipments will be provided to you.
Beskonak river is perfect  for Rafting. it is the most popular water sports for adventure seekers. The adventure tour starts with groups of people in a special boat with a guide inside.  Everyone is sitting along the sides of the boat if you want to go with a team. Action, Adventure together with the rest of the group. You can also have a two man boat on your own. This is without guide. A great nature is waiting of you underway you can admire the nice surroundings, turquise coloured water, an ancient bridge over the river.
Jumping in the river is also a great opportunity to refresh, enjoy the water. Raft Adventure means also a delicious meal is waiting for you after the river ride. This is a great way to have a good time with your friends or your family. We will have also a stop for playing games, some animations. Perfect moments for our team to record your best moments on cam. You can watch the record, if you want you can purchase it for a nice holiday memory.
When is the best time for this Alanya Tour
To take part of raft adventure there will be many oportunities, because most of the time we have nice weather. Alanya is one of the best regions to do Rafting. Alanya Beşkonak is the location, to which we will go. İf you want to have a great time, a nice ride on the river this is just right for you. The tour is qualified for everyone. The degree of dificulty for Alanya Rafting Adventure Tour is easy and funny. The equipment  is provided by the raft adventure company: Neoprene, life jacket, helmet.
What will you need to wear or bring with you :
swimming suit, towel, dry underwear. Who needs more action should make the tour in spring time. it means April, May,when the water level is even higher.
Do you offer Rafting Trips from elsewhere ?
Yes we can organise Rafting Trips for
you : Antalya Rafting, Manavgat Rafting, Side Rafting, Alanya Rafting.
[/vc_column_text][/vc_column][/vc_row]