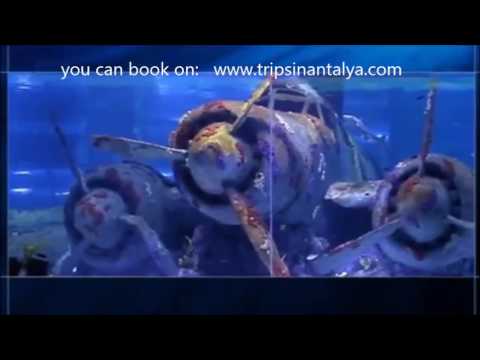 Antalya Aquarium continues to add meaning to your Alanya holiday
Antalya aquarium is one of the world's largest aquariums you can visit with Alanya tours. This giant aquarium reveals the underwater world. İt deserves to be the world's largest tunnel aquarium with a length of 131 meters and a width of 3 meters.
THERE İS NO LİMİT FOR FUN
Antalya Aquarium has a gigantic structure. İt opens a window to the magic world of underwater. The aquarium is visited from people all over the world and Turkey. You will not be able to hide your admiration across the complex. On your visit to the Snow World and Ice Museum. In the Antalya Aquarium complex, you will have the opportunity to make a real snowball. While it is 40 degree outside. At the Wild Park you will have the chance to explore the world's most interesting and poisonous tropical species.
Make great pictures on your Antalya Aquarium tour
You can create a different square in your memories with holywood green screen memorial pictures on your Aquarium trip. In the aquarium you will enjoy the variaty of fishes. You will also benefit from the gift items to buy for your loved ones. Do you want to experience an unforgettable holiday by visiting this wonderful lively center ? İt is 70 km away from Antalya Konyaaltı beach, you just have to contact us.
Antalya Aquarium sightseeing tour is one of the biggest aquariums in the world. İt is a funny and stunning place to see. The Aquarium offers a wide and large aquarium. A well as options for its guests with different entertainment options at the same time. We continue to organize tours for the Aquarium. which is also organized for school trips and various events. The aquarium has not only entertainment centers but also a variety of dining options. McDonald's, Mado Cafe, Mill and Sushico.
ANTALYA AQUARİUM FEAR TROPHY
As we mentioned earlier, in the aquarium, not only fish are included. Different sections of animals are exhibited in different areas. Such as spiders, frogs, scorpions, snakes, crocodiles, chameleons and lizards. Here you will be able to see the most dangerous creatures of the world in more then 70 zones. While the surroundings will continue to navigate with the appropriate sound system, the sounds coming from your ear will awaken the feeling that you are in the jungle.
ANTALYA AQUARİUM CİNEMA
The XD cinema, which is the most preferred part of the student groups in particular, provides fun minutes. Cinema becomes another pleasure with Oceanride, the 4D underwater film where the most real images take place.
Antalya Aquarium visit dates and times
You can visit it every day of the week. There is even so much demand that even at official days it is open. When we look at the hours of the visit, it is between 10:00 and 21:00 on Friday-Saturday. Between Sunday and Thursday, Antalya Aquarium opens at 10:00 pm and closes at 20:00.
ANTALYA AQUARIUM TOUR
The Aquarium is one of the most popular entertainment centers in Antalya and has many activities to expand your imagination. With a 5000 square meter grass area on Konyaaltı coast in the unique shadow of the Taurus Mountains.  İf you wish you can come with your teammates to participate in a lot of activities. From rope pulling, sack racing, cupping balls to chairs, archery to kite festivals. You can keep in touch with us for the Antalya Aquarium tour. where you can leave your sweet memories with a series of entertaining events. Our team guides you with expert staff in this matter and provides you with convenient price options in collective participation.
Antalya Aquarium
One of the largest aquarium complexes in the world. Offers inspiration, fun and education together. İt has 40 thematic aquariums. 131 meters long and 3 meters wide. The world's largest tunnel aquarium is waiting for you. Antalya Aquarium!Antalya Aquarium tells stories from around the world. As you can explore the magic world of water. you can make real snowflakes at the Snow World. The Ice Museum is waiting of you. Take a tropical adventure among the world's most poisonous, colorful and most interesting species at WildPark. With Captain Barbossa at Oceanride XD Cinema Sized cinema technology.
What else can i see in the Aquarium complex
In addition to Antalya aquarium complex, it is possible to wander in tropical surroundings. Enjoy fun moments with real snow, and participate in activities such as xD cinema. In the complex where many famous brands are located, you can eat delicious food and you can integrate your travel with your memorabilia thanks to souvenir stands.
Snow World in Antalya Aquarium
The place referred to as the snow world is one of the most enjoyable snow activities in our country with a closed area of ​​1500 sqm. Inside this complex are the houses of iglolar, Saint Nicolas, and cafés. In Antalya, which has a hot climax, the outside of the snow world is up to 40 degrees, while the inside temperature is -5 degrees.
Aquarium Sound Effects
Special sound effects reflecting the wild park with caves and deserts in the aquarium complex and tropical forests. The most spectacular feature is the reflection of the appropriate sound effects on the visitors, while traveling in this unique atmosphere. Sound effects sometimes manifest themselves as a sound of rain, sometimes the sound of rolling stones, sometimes as monkeys, sometimes as bird sounds or windy sounds.
You can transform your antalya aquarium trip with memorable photographs. Prepared with holywood green curtain system and memorable special gift items. You can complete an adventurous day with famous flavors. Such as McDonalds, Mado and GeLatte Italian Ice Cream. Situated in the heart of Antalya. Just 70 meters from the Konyaalti coast in the city center. Antalya Aquarium is Antalya's liveliest attraction! Antalya Aquarium, discover your imagination.
WhatsApp reservation: 00905375088869 Hayati Turan