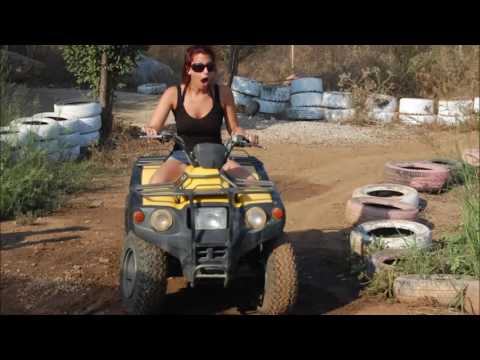 Have fun and action with our Alanya Quad safari
Alanya Quad Safari is a fun that brings adrenaline and excitement into your life. This Alanya safari Tour is dusty and funny. First of all instructions will be given for the Alanya Quad Safari tour and a test drive will be made. As protection for the quad safari  you will get helmet, knie and ellbow protectors.  The adventure drive with our Quads will be 30 km in the Taurus Mountain. Through dust over stone and stick and through water. After 15 km Quad Safari we will make a breake at the famaous dimçay river, where you can swim and jump from a 3 m tower into the water. After Swimming and relaxing we drive back over stick and stone and through dust to the place where we have started our tour.
Alanya Quad Safari Action and Fun with Alanya tours
You are looking for some adrenaline and excitement ? Then this will bring some into your life. This Alanya Tour is sometimes muddy, sometimes wet and sometimes dusty. You do not even need to be a car driver and you do not even need to be a driver at all. You can do it and have fun. After a short introduction and a few meters you will be able to dominate the ATV engine once you have used it İt can be used by 16 years and older.
We have transfer service from the hotels and are included in the price. Guests who have already booked for the tour will be transported to the starting point in the wooded landscape of ​​the Taurus Mountains, where you will be start your exciting offroad quad safari tour.
Quad safari from Alanya.
What else will i see during the safari tour ?
During the alanya quad safari tour, a break takes place for landscape photography. You can stop your ATV – QUAD for shooting some nice pictures. Before the Alanya safari starts, the professional guide will give a brief instruction about the ATV quad engine. The necessary equipment for the Quad – Atv safari will be distributed to the participants and you will be prepared to take the tour with safety precautions …
Then the landscape and the rivers are crossed and the quad (atv) safari is completed by passing through the scenery offroad landscape. After a little break, all participants will be brought back to their Hotels. (places of hotel, house, reception) where they are taken, when the tour is completed. İf you dont have sunglass or a scarf for dust protection you can get it from us for a few bugs. You will be recorded on the whole tour Alanya quad safari for a great holiday memory. After the tour you can see yourself in action on video and decide to buy it if you want.
Whatsapp reservation 00905375088869 Hayati Turan