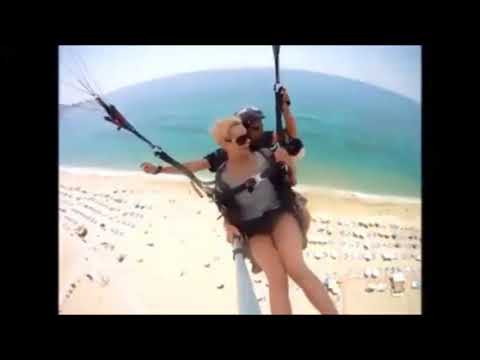 Alanya Paragliding Tour
Alanya Paragliding – jump with our experienced pilots from 800 meter and enjoy the breath taking view of Alanya Castle and the cleopatra beach. The basis of a great vacation is a real adventure. In this case, everyone chooses an adventure according to their temperament. Someone prefers quiet and interesting excursions, and someone cannot imagine a vacation without extreme sports. Alanya Paragliding tour, which is becoming increasingly popular in recent years, takes the honorable first place in the list of adventure lovers.
Paragliding is an easy way of flying. Whether you dream of soaring above the hills of the Taurus Mountains, or explore exotic locations from the air, we can help you. Paragliders were developed from freefall parachutes and have been refined to make them easy to fly with the best possible performance whilst keeping them small enough to carry in a backpack. As you fly you feel the irresistible freedom of the skies. Experience it for yourself – the excitement of learning to fly is within your decision. We keep you flying safely whilst having fun!
Skydiving is a favorite activity of thousands of tourists from all over the world. Especially in Alanya, where this sport is developed very well. Here are excellent weather conditions. This is an amazing adventure that will forever remain in your memory. Feel the real freedom and enjoy the amazing views of Alanya from a bird's eye view.
Alanya paragliding tour is conducted with experienced instructors from a flat hill at an altitude of about 700 meters above sea level. Flying, as a rule, lasts about 15-20 minutes. The jump ends with a landing on the famous Cleopatra Beach. This is one of the most beautiful and largest beaches in Alanya. Our top priority is safety and quality. Our instructors have been trained, have valid certificates and have proven their professionalism in paragliding. All equipment complies with international standards of quality and safety and is regularly tested.
Paragliding tours are held daily from 9 am to 5 pm. You can book a tour at any time convenient for you.
Even if you have never jumped with a parachute before, you can still take part in a paragliding tour. In addition to the basic briefing, your first jump will be performed in conjunction with an instructor. Therefore, all guests of Alanya can experience themselves and fill their holidays with new impressions.
Alanya Paragliding Tour Program
Anyone who believes in himself and wants to experience an incredible feeling of flying can join the Alanya paragliding tour. Every year thousands of tourists from all over the world jump over Alanya. You can be among them. Alanya Paragliding tour program includes:
Free transfer from the hotel where you stayed to the meeting point;
Transfer from the meeting place of the group to the jump point;
Instruction on safety and use of equipment;
Jump with an instructor;
Meeting on the Cleopatra beach after landing;
Transfer to the hotel.
Transfer, instructor, equipment, instruction and insurance are included in the tour price. Photos and videos taken during the tour are available at an additional cost. There are no age and weight restrictions for participation in the tour. The exceptions are children under 12 years old, the elderly, pregnant women and those with various diseases (heart, nervous system, diabetes, epilepsy, chronic diseases, etc.).
Paragliding is a unique experience that will be interesting for many peopel. Beautiful bird's-eye views of Alanya will amaze anyone and will give an indescribable sense of freedom. Flying with an experienced instructor will give you courage and give unforgettable impressions. You can book a tour right now at very reasonable prices and enjoy a unique holiday in Turkey.
Whatsapp rezervation 00905375088869 Hayati Turan