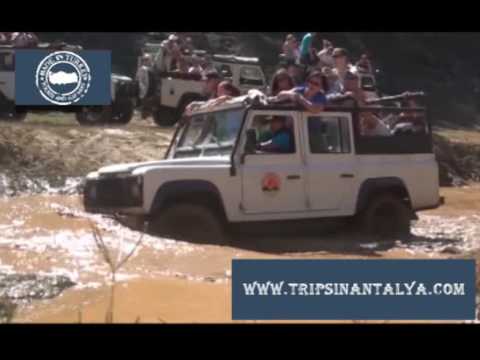 Alanya jeep safari tour is going over stick and stone
Alanya Jeep Safari tour is action and fun. We will drive 1200m over the sea level. Nice villages in the mountains of Alanya.  You will have some breaks for Photoshoots at the nicest places with great view. In this Off Road Jeep Safari Alanya Adventure tour you will discover typical small villages and breathtaking nature.
We have over 25 years of experience with Alanya jeep Safari Tour. We provide an extensive portfolio of unforgettable experiences in The Real Asia. Choose our adventurous jeep safari alanya and see some great places. Our experienced drivers will provide great fun. You will get wealth and depth of local knowledge in the taurus mountains. Which is very interesting.
The Alanya Safari leads over small ways
The Alanya Safari leads over small ways, hills, dales and almost dry riverbeds to the mountains in open jeeps. The  experienced Jeep safari guides will give you some information about the environment.  There is a swim break in the mountains in the safari alanya and also a delicious  lunch awaits you. This outstanding excursion is adventure, culture and nature in one. Take great memories with you. After the tour you will have wonderfull pictures from your holiday.
Visit forgotten places with the Safari tour
Jeep Safari Alanya will bring you with the jeeps to destinations in the mountains that time has seemingly forgotten. İnterested in a tour with more action and adventure? Why not try our adventure tour alanya jeep safari. Get up hills and mountains, through rivers, past olive trees and citrus plantages. See the most interesting landscape. Our tours are suitable for individuals, families, groups, and companies and we offer a pick up and drop off service which is includet.
What is the safari price ? The safari price is only 20 Euro. Whole day trip meal is included. What you will see ?
One of the most popular activities in Alanya is the Alanya Safari Tour. One of the best Antalya safari tours. It is an adventure filled with dust, stone and muddy mountain roads. Rivers and the surrounding natural villages of Alanya. Alanya Safari 4×4 on land vehicles in each jeep is made up of groups of 4 to 8 people.
Safari with Adventure and Adrenaline
Alanya tours are great fun. Among the natural beauties are the opportunity to see the surrounding areas of Alanya and to witness the village life. As well as a fun trip full of adventure and adrenaline. About 30 km. off-road, the rest of which is stabilized and joined by a total of 90 km of Alanya jeep safari which is formed by asphalt village roads;
You can have a very enjoyable day with mud, dust, traditional water battles and spectacular views of nature. Tours usually start early in the morning. River, forest and village roads after the safari one of the villages of Alanya lunch break is given.
You taste regional dishes. Then go on to the safari and return to Alanya. On Alanya holidays, you will often see especially foreign tourists taking a tour in groups like 5-6 jeeps in a row in the morning. The tours are usually performed on the taurus mountains, near alanya. Jeep safari alanya is a great choice for the whole family.
FUN WİTH ALANYA JEEP SAFARI TOUR
If you are planning holiday for Alanya which is one of the most beautiful districts of Antalya and if excitement and adrenalin are indispensable for you, we recommend you to take a jeep and safari tour. Alanya, which hosts thousands of tourists every year, is one of the most suitable places for jeep and safari tour.
Alanya, Jeep Safari Tour, which is preferred by those who do not like ordinary holiday. Adrenaline passers and unforgettable memories and those who want to stamp their holiday, bring you many activities with our company. We were informed about our Alanya jeep safari tour activities as the most preferred holiday activity that experienced the influx of tourists.
Alanya Jeep Safari Tour For The Whole Family
For our Alanya Jeep Safari tour, our team will take you in the morning and take the first step of the tour. Our expert drivers in the field are made up of people who have dormitory documents and authority for the jeep tour. During the Jeep tour, they will take care of you and show their smile and sincerity.
During the safari time, the jeeps first turn the route to the Alanya View Terrace, which is the most beautiful view. If you have a camera, it will be good to have lots of photos to keep you memorable against this wonderful view. Here you will be given preliminary information about the jeep tour and you will be taken to the next route. Our Jeeps departing from Terrace to start and move towards the villages as a new direction. At this point, Off-Road enjoyment is invaluable and water wars are inevitable. We advise you to keep your electronic goods that can get wet in the water wars in your bag. The most fun part of the safari tour is here.
Visit nice Villages
Immediately after the off-road tour, we continue to visit nice villages among the Taurus mountains. In these rare villages that have not lost their originality, you have the opportunity to eat pancakes from the hands of friendly hearted aunts. You can get handcrafted necklaces and ornaments with the aim of keeping your fingers tied up. While visiting our village mosques, village houses and schools, our guide that we have with you continues to transmit wide information to you at any moment.
While visiting the village houses, as the road goes on, the small canyons begin to hit the pond and short movers are given to take pictures in these canyons. You can visit the Dim Dam, which is one of the first ones to come to mind in terms of Alanya, and you can visit here with an authentic sightseeing destination. After lunch, it goes to Dimçay and is given a meal on the river. You can enjoy a swim in Dimçay after a meal break. However, it is useful to note that the water in this area is very cold.
Just Take action for a great activity
After this event, Off-Road will be made in the forest and preparations will be made for return. After lunch, you will have the pleasure of taking your memories of all this wonderful activity and your apartments start to return to your hotel with your joy and excitement. The jeep safari tour which is one of the most beautiful activities to be held in Alanya is giving you unforgettable minutes with our team. We are waiting for your reservation for jeep safari tours, which we hope you will be among us for vacationing in Alanya.
Alanya Jeep Safari TOUR PROGRAM:
Our drivers use our 4×4 land jeeps for 10-12 people. Along the route, especially in Alanya, the road passes through the forest off-road, stabilize and asphalt roads and travels about 80 km. Lunch is given in Dim Çayı, Alanya's famous picnic area. Do not forget swimsuits and towels if you want to swim in cold water.
You will enjoy the pleasure of knowing Alanya city both by having fun and going outdoors in the gardens and mountains.
Do not forget
• Our services pick up and drop you off from where you are staying for the tour. It is included in the tour price.
• Camera and Photo Keep your machine at your side for beautiful views.
• Keep Sun Cream for your protection from sunburns in hot months.
• The entrance fee to Dim Cave is extra. (15 TL) Requested persons can enter.
Off-roads and water battles take place. There is a possibility to swim in the dim river. Do not forget to bring your bikini and bathing suit with you.
WhatsApp reservation: 00905444101017 Rafet Kavak