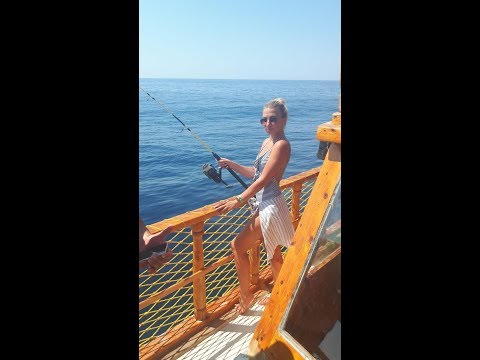 Nice Alanya fishing tour
Alanya fishing tour offers to catch some fishes on one of the most charming seas in the world. Enjoy the mediteranean sea and the fantastic bays with our fishing boat. Sounds good ? Than join us with this relaxing trip.The suitability of the equipment as well as the professionel captain and most importantly the professionalism of the fishing tackle is necessary for the chance of catching fish. We are awaiting you to our boat where all these features comes together.
CLİCK HERE TO MAKE REZERVATİON FOR THE FİSHİNG TOUR
Alanya fishing tour
We have to get out in the morning because we have to increase our chances of catching fish.  As in all of our Alanya Tours we will take you up infront of your Hotel and go to the fishing boat. We will throw a maximum of 6 fishing lines to catch fish together with 10 fishing tackles while the boat is driving. The important thing here, are the angles to each other. There are seats, indoor area, open space, toilet, kitchen, fridge, sonar, lifejackets on our boat. Our professional fisher will make the most suitable hunting  for you according to the weather conditions and the fish season.
Sometimes deep water hunting, sometimes towing, sometimes jigging. According to the condition of the sea, your feed is set with a saddle, chicken breast, worms, fake bait, etc. Our fishing tackle are professional machines produced from the best quality materials. Fishing is done at a distance of 2 to 6 miles from the port. It can be around the Alanya castle, in front of the cave, in the direction of Mahmutlar or in the open sea. As predicted by our sonar device, our predictions of where and when fish will come out are strong. The size of the fish is generally between 20-80 centimeters and 200-4000 gr depending on the season.
FİSHİNG TOUR ALANYA, TOUR PROGRAM
Meet with guests at the specified point in the morning (transfer)
Move by boat from Alanya pier
According to the season location will be choosen
Deciding wether, jigging or bottom-up hunt will be done
You can take the caught fish with you
INCLUDED SERVICES
Hotel transfer
Professional fishing equipment
Feed for hunting etc.
Meal
You can take the fish you caught with you. Our tour lasts approximately 5 hours from 08:30 to 13:30. At the end of the tour our transfer vehicles will bring you back to your hotel.
Whatsapp reservation 00905375088869 Hayati Turan