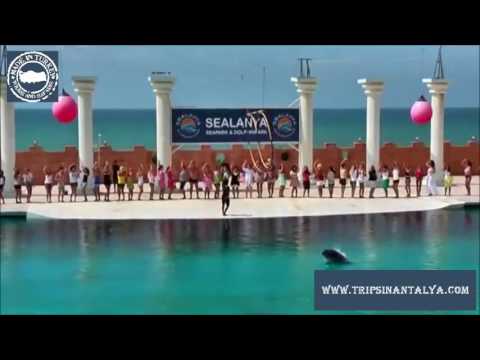 Alanya Dolphin show tour in a beautiful Dolphinpark
Alanya dolphin show tour is a kind journey to the wonders that exists beyond the ocean's world.  A place of unique life, energy, excitement and mystery with the dolphins. İt is Alanya Dolphin Show Time. You will be amazed with the abilities of our sea mammals and the friendship of the trainers with these incredible creatures. Swimming with the dolphins. Once in a life time experience.
We make your holiday unique and memorable thanks to the various activities and tours that we offer to all our guests who come to Alanya. Standard rest on the beach or in a hotel by the pool also has a place to be, however, it is unlikely that you will remember it for long. But the Dolphin Show will give you an opportunity to have a great and fun time with your family. This is one of the most popular events that we organize, especially for guests with children. But on the Dolphin Show and adults can enjoy socializing with cute animals.
All you need to do is contact us and reserve a place to participate in the Dolphin Show. The show takes place in one of the largest dolphin parks in Europe, in Sealanya Seapark. This park is located in the district of Turkler, 20 km from the center of Alanya. At this event you will have a great time watching the dolphins perform the most amazing jumps and stunts. In addition, you or your children can also swim with animals in the pool.
Dolphin show tour is organized twice a day in the morning and in the afternoon. The morning tour takes place from 09.00 to 12.30, the afternoon tour runs from 14.00 to 17.30.
Swim with the Alanya Dolphins
This is one of the most incredible Alanya Tours. You will spend around 25 minutes in the water with the dolphins on the alanya dolphin show. Petting, stroking and of course swimming with the dolphins in alanya. You will love this great experience. This Excursion is great for the whole family. Make your holiday even more unforgottable.Here is one of the world's greatest marine aquariums. Entering from the tropical beach, this pool awaits you with an aquarium, coral reefs, thousands of colorful fish, anfors.
What else can i see at the Alanya Dolphin show
While you are on Alanya Dolphin show tour you have the chance to snorkel all day in the same water with the tropical fishes. You can touch and feed them. Now you do not have to travel thousands of dollars to travel to tropical islands. Tropical sea creatures are waiting for you at alanyas SEAPARK. This adventure pool, which can be accessed from our tropical beach, is almost like an adrenaline pump.
Our wishful guests will be able to examine the sharks from the section where they leave with their snorkels and masks. Do not forget that between you and the shark only will be the net. Because you will need protection there. This adrenaline depends on your heart, this is a Shark Pool … Giant tusks are entering the pool from the tropical beach. Play games with mantas, feed and touch them. It's an incredible feeling. This aquarium pool will be at your service throughout the day.
SWEET WATER LAKE AND TROPICAL RIVER WİTH ALANYA TOURS
Alanya tours offers you to swim in our freshwater pools after our salt water pools. We have a giant freshwater pool for you …
Alanya Dolphin Show Program
Transfer in the morning and in the evening after the show to the hotel is included in the tour price. The Dolphin Show is also included in the tour price. But swimming with dolphins, food and drinks, photo and video filming, as well as other expenses are not included in the tour price and are paid extra on request.
Rare bottle-nosed dolphins, South American sea lions and fur seals take part in the Alanya Dolphin Show. After the show you can communicate with animals, feed and pet them. Additional features in the tour program and requirements for them:
Guests who want to participate in one of the shows with balls and rings, must make a pre-order.
Guests who want to swim with dolphins should be able to swim, must be over 6 years old and not wear any jewelry or accessories while swimming.
Guests who want to swim with dolphins should also not suffer from epilepsy and should not have any open wounds on any part of body.
Alanya Dolphin Show is certainly not just entertainment, but also an opportunity to acquaint children with the world of nature and its inhabitants. Such activities develop love for animals and strengthen the bonds between nature and people. Children and adults get great pleasure from communicating with dolphins, and photos and videos from the show will remain a wonderful reminder of the great holiday in Turkey.
If you have chosen Alanya for your vacation, then join the events that we have organized. All you need to do is choose one of our tours and book it.
We have a freshwater pool 300 meters in the lazy river, a swimming pool with a wonderful view of the beach with no fish. You will leave yourselves in the lazy river stream and walk through the tropical plants. This is your day .
WhatsApp reservation: 00905444101017 Rafet Kavak