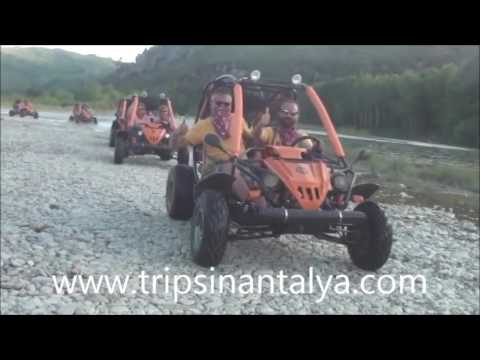 Have fun and action with our Alanya Buggy safari tour
Alanya Buggy safari tour is among the most extreme types of fun and entertainment tours. They bring together lovers of adrenaline and outdoor activities from around the world. Our buggy safari runs among extraordinary natural landscapes on the forest road. The tour lasts about 2-3 hours on a buggy, which you can ride alone or in the company of a friend. Driving a buggy is pretty easy, you do not need a driver's license or a specific vehicle. After a short briefing, you can safely begin your journey. Children under the age of 12 can also take part in the tour, but only if they are with their parents.
During breaks at Alanya buggy safari, participants can relax and swim in the dim river. Buggy safari tours are organized 3 times a day: from 9 am to 1 pm, from 2 pm to 6 pm and from 4 pm to 8 pm. Since the tours last no more than three hours, meals are not provided in the program.
CLİCK HERE TO MAKE REZERVATİON FOR THİS TOUR
alanya buggy safari tour is one of the most interesting adventure Alanya tours.  İt shows all the beauties of nature and forest. While having adrenaline with the vehicles offroad and at the same time living the nature. It is one of the most beautiful organizations you can do on your holiday. Also included a nice swim break in a river. You can jump in the river if you want. İt is refreshing. The buggy safari is exactly right for our guests who are seeking action. The Alanya  buggy safari is driven in groups and is very enjoyable.
Alanya buggy safari tour will bring your excitement to the peak
Anyone over 16 years of age can drive. Anyone under 16 years of age can join with an adult. It will be a lot of dust a lot of fun and excitement. After arriving in the base station your guide will explain you how to use the buggy and some general rules. Full instruction from professional guides, easy to operate Buggys İf you have any questions you can ask the guide.
Helmet and ellbow protection will be given. After introduction a test drive will be made. İf you feel good and you are comfortable with the buggy we start our safari. Our team will record your best moments to the camera while driving your buggies. You can watch your video after driving Buggy safari from Alanya.
CLİCK HERE TO MAKE REZERVATİON FOR THİS TOUR
Reasons why you should make the safari
fascinating trip into a nice nature and a great opportunity to admire the panoramas of the Taurus Mountains. Alanya  Buggy Safari tour is great for you if you like action with roads and trails in the mountains to be mastered. İt becomes wet with the river and extremly funny. Join this tour to make your holiday even more memorable. Adventure leads to remember things longer. It's safe route that is in the Taurus mountain, positive emotions.  During the movement you will overcome tens of kilometers of mountain off-road, you are also waiting for several stops in picturesque places. We invite you to 20 km of exciting driving pleasure.
During the safari you are accompanied by our experienced guides. They also act as instructors, give a brief information about driving buggy and the basics of safety. After meeting the participants and a small briefing, the tour begins. Before the participants opens the road length of about 30 km. Overcoming off-road, you will actively and have fun, and at the end of the road you will find the cool waters of the Dim River. While staying, you can swim, relax, enjoy the magnificent views of nature, and remember your day forever, taking pictures of yourself, your friends and the surrounding nature.

Buggy Safari tour program includes transfers, buggy equipment and insurance. Participants need to take bandanas to protect their heads from the sun and dust, as well as money for personal expenses (tips, drinks, snacks, etc.). Safari tour takes place at the foot of Mount Toros among the pine forest, in Dim River National Park. This place meets all the expectations of adventure and outdoor enthusiasts who love to be alone with nature. Our buggy safari tours are widely known and loved not only in Alanya, but also abroad. Every year, tourists from all over the world take part in them. All guests coming to Alanya to enjoy the magnificent sea and beaches can also take part in all tours. Just reserve a place in the group. Tours are held on all days of the week with the support of professional staff. Our guides and support services team have the most up to date information on any issue of interest to you and always ready to help you.
Keep in mind
Wear:  glasses, sunscreen, comfortable shoes, a handkerchief to protect your face from dust and dirt. Bathing suit, because in our program we stop for swimming in a nice river.
İf you have a child, you can take them with you and they can sit beside you. No drivers license is required. During the whole safari you will be recorded on camera on certain spots. After the tour you can watch yourself and decide to purchase it for a greate memory if you want.
Our buggies are all in good shape and secure. During the drive a technician will drive with us. İn case help is needed for repair. Our routs are carefully choosen for your action and fun. You are in secure hands since only experience guide are coming with you and guiding the group.
Alanya Buggy Safari tour, WhatsApp reservation: 00905375088869 Hayati Turan